Give

and receive help

Learn

new skills

Share

hobbies and interests
Move to next section
What is linkAges TimeBank?
linkAges TimeBank is a neighborhood service-exchange network that matches you with the unique skills, talents, and needs of those who live nearby. As a TimeBank member, you can connect with others who share your interests. You can also find opportunities to give and receive help. Members earn hours by providing services to other members, and then use those hours to receive services in return.
Karen
helps recent retiree Joan plant a vegetable garden and earns TimeBank hours.
John
is a musician who just moved to the area. Karen uses her hours to take guitar lessons from him.
Sharon
offers transportation, so John uses some of his hours to get a ride to the airport.
Terry
offers technology help, and earns hours from Sharon teaching her how to use her new tablet.
Move to next section
Who can join?
linkAges TimeBank brings together people of all ages with diverse interests. Members join for many reasons: to give back to their community, get help with basic needs, make connections because they are new to the area, explore skills or hobbies, or because they have an interest in sharing resources. There is no cost to join.
Click on the images below to explore different membership types.
Move to next section
Our communities
We are creating the communities
we want to live in.
linkAges TimeBank is currently available in the San Francisco Bay Area and parts of Santa Cruz and Los Angeles Counties. We'll be launching soon in the Sacramento, CA region.
We are growing! If you are interested in learning how you can bring linkAges TimeBank to your community, please contact us.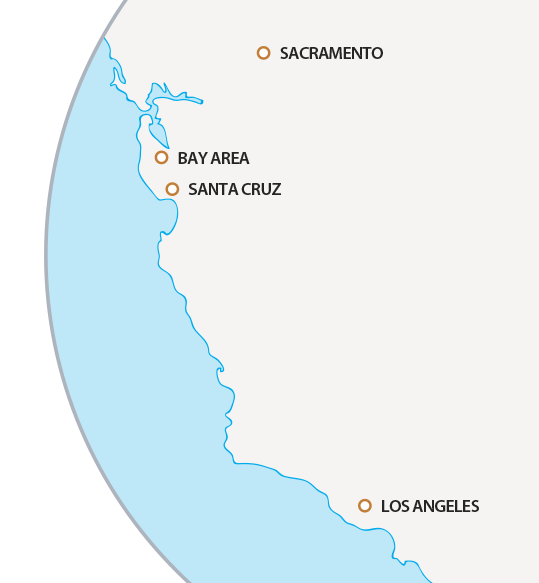 Move to next section
Ready to get started?
Attend an upcoming orientation to learn more about linkAges TimeBank and sign up to become a member. Find an orientation near you.
Be part of your neighborhood's greatest resource!